The History of NASMA
Fifteen families made a substantial commitment to the development of a dream. Their charter memberships provided the initial funds with which to underwrite the formation of NASMA. Without their commitment to saddle mules and the saddle mule industry, NASMA would not be a reality. Their foresight and pledge of confidence is greatly appreciated.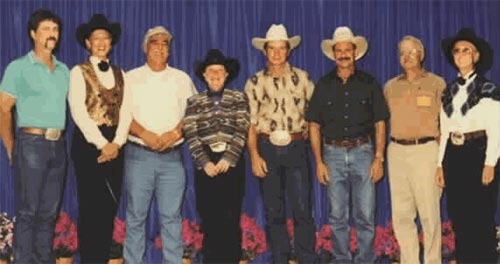 First Executive Committee Members: Carl Krochet, SC; Diann Walker, TX; Bill Moore, TN; Sue King, TX; Loyd Hawley, AR; Greg Sefton, FL; Bob Mischka, WI; Judy Rose, CA. Additional Charter Members: Jim Adkins, CO; Warren Bagley, TN; Allen & Elaine Case, OR; Tom & Glenda Fagg, TX; Sarah Hawley, AR; Herb & Beverly Heroy, FL; Jim Joling, TX; Tex Low, TX; Jane Moore, TN; Mary Mischka, WI; Dixie Musick, TX; Liz Sefton, FL; Joyce & John Stratton, OR; Bob Walker, TX; Nick & Lynne York, NC.
In the Summer Issue '93 of "The Saddle Mule News", this announcement appeared:
Announcing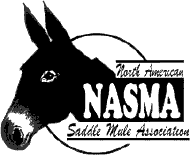 The formation of an organization devoted to the promotion and development of the Saddle Mule used under saddle in English and Western disciplines and light harness. The growth of the Saddle mule in numbers and public acceptance is an indication of the fulfillment of this need. The Association will also serve as an information center for its members and the general public on matters pertaining to shows, contests and projects designed to improve the Saddle Mule and aid the industry.

NASMA halter shows and performance contests will give breeders and exhibitors opportunities to compete for awards. The public events also demonstrate progress in breeding for type, quality and ability to perform. The NASMA Official Rule Book contains the governing rules pertaining to shows, in addition to the NASMA Constitution and the NASMA Corporation by-laws.

The North American Saddle Mule Association's objectives are to preserve the records of the exhibition and pleasure use of the Saddle Mule in all equestrian disciplines in which it is used, while maintaining the integrity of the Saddle Mule. Further, it encourages Saddle Mule ownership and participation. NASMA actively protects the Saddle Mule by establishing and strictly enforcing rules which govern every NASMA approved event in order to reflect the natural ability of the animal.

To that end, NASMA is committed to the following beliefs:
Above all, the Saddle Mule's welfare is paramount to other considerations and the continued development of procedure which ensure humane treatment of the animals and fair competition supersedes all other considerations.
Stringent rules established and enforced by NASMA demand that breeders, owners, trainers and exhibitors are continually responsible for the well being for the Saddle Mule entrusted in their care.
NASMA will develop and review adequate and fair rules governing competitions and will enforce them for the common benefit.
NASMA will encourage and assist all those involved in the breeding for, exhibition and promotion of the Saddle Mule and the continued improvement of the Saddle Mule in regard to its performance and development as a desirable saddle and harness animal.
Membership, governed by an elected board of 24 directors, 3 from each of the 9 designated representative zones, will entitle members to vote in general elections, volunteer to serve on various committees and offices, seriously promote and exhibit their Saddle Mules in NASMA approved and governed contests, and participate in NASMA awards programs. Local clubs may petition NASMA to sanction and approve their shows based on their meeting the criteria established in NASMA Official Rule Book.

A committed nucleus of mule enthusiasts from across the country have volunteered their time and effort to develop the structure for this organization and its official Rule Book. Their endeavors are centered around cultivating a professional and dedicated membership who will diligently aspire to promote Saddle Mules to the public as exceptional show, trail and pleasure animals.

The Spring '94 issue of "The Saddle Mule News" displayed this notice:
SHELBYVILLE, TENNESSEE – On July 14, 1994, The Great Celebration Mule Show was the site of the Charter Meeting of the Board of Directors of the newly formed North American Saddle Mule Association. Seven directors signed the Articles of Incorporation of this national effort to organize the saddle mule industry. Diann Walker of Alvord Texas; Greg Sefton of Winter Haven, Florida; Bill Moore of Shelbyville, Tennessee; Bob Mischka of Whitewater, Wisconsin; Loyd Hawley of Prairie Grove, Arkansas; Judy Rose of Escalon, California and Karl Crochet of Mt. Pleasant, North Carolina put their signatures to the official document. Additional Board Members include Elaine Case of La Grande, Oregon; Pat Mitchell of Sun Valley, California; Christine Duval of Onalaska, Wisconsin; Hallie McMarrow of Hinesburg, Vermont; Herbert Helroy of Altoona, Florida; Cindy Powell of Churchville, Virginia and Allison Magee of Clive, Alberta, Canada. Officers elected are: Greg Sefton, President; Judy Rose, Vice President; Diann Walker, Treasurer and Sue King, Secretary.

Representatives from nine geographical zones will equally share in the governing and policy making of NASMA as it strives to provide a forum, before unavailable, for member to promote ideas, make changes and help the Saddle Mule industry grow. NASMA is based on the idea that mule owners are ready for an organization that will help them breed for, promote and use their unique animals.

The Saddle Mule, defined as any horse/donkey hybrid, is an animal resulting from the breeding of either a male donkey jack to a saddle type horse mare or a saddle type horse stallion to a donkey jennet and used for work and pleasure under saddle and in light harness. The donkeys used to produce Saddle Mules are either Large Standard or Mammoth breeds. New breeding programs are producing Saddle Mules with refinement of conformation and ability to perform. They come in all sizes and colors just as horses do. They are used in all equine disciplines from English to Western events, driving in light harness to Dressage, Rodeo to cattle working, and some events unique to the mules' history.

NASMA has compiled a comprehensive rule book and record keeping system by which NASMA sanctioned events and contests can earn members and their mules points based on hours accrued while trail riding their mules.

The North American Saddle Mule Association encourages Saddle Mule ownership and advocates the promotion of the Saddle Mule for both work under saddle and light harness. In addition, the organization will strive to add continuity and uniformity to the effort and growth of the mule industry. In working to attain its goals, NASMA will unfailingly protect the health and well being of the Saddle Mule; encourage improvement of breeding for type, quality and the ability to perform; and work to establish and maintain fair rules for competition for the Saddle Mule.

Today, membership in NASMA is open to individuals, local clubs, organizations, corporations and partnerships. Members may be residents of any state, territory or country. Membership in NASMA does not conflict with local club membership. Local clubs are free to adopt NASMA rules and have NASMA sanction their shows if their members would like their points count toward NASMA awards.

NASMA also encourages any local club or organization that has sufficient entries for the "exotic" crosses to provide an opportunity for those animals to be exhibited. Hybrids of other than a horse/donkey cross may be present in numbers to justify their exhibition in their own classes in Halter and Performance and NASMA advocates the inclusion of such separate classes for the "exotic" crosses.

Lifetime Achievement Award - The North American Saddle Mule Association recognizes the following individuals for their outstanding dedication to the promotion of the saddle mule and their commitment of their time and talents in achieving NASMA goals:

1995
Paul and Betsy Hutchins of Denton, TX
1996
Dr. Robert Miller, DVM, of Thousand Oaks, CA
1997
Dr. Tex Taylor of Bryan, TX
1998
Meredith Schulz Hodges of Loveland, CO
1999
Sue Cole of Bland, MO
2000
Ron Clayton of Grand Canyon, AZ
2001
Bonnie Shields of Sandpoint, ID.
2005
Ken Colbert of Steelville, MO
2006
Karl Schneider of Bell, FL
2007
Sue King of Boyd, TX
2008
Lori Montgomery, Crittenden, KY
2011
Kathy Herrin, Canon City, CO