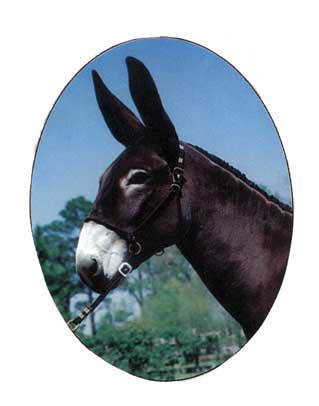 T.J.C. Clyde was foaled April 2nd, 1993, at the Arizona farm of Tom and Jean Chavapil. His dam is Chavapil's Bonnie E-7078 and his sire is unknown. History has it that the jennet had jumped into a pasture of several jacks when she was in heat, the Chavapil's were unable to determine which of 15 potential sires bred her.

Clyde was purchased by Dr. Cindy Brasfield of ARCO Farm, Robertsdale Alabama NASMA ID # 1215 when Clyde was 14 months of age. Clyde was registered with NASMA August 10,1999 and he was issued the registration number ND0003. Cindy and Clyde toured the country winning multiple Halter Championships and Performance High Point awards during the dawn of performance donkey competition. During his amazing show career Clyde was undefeated Western Pleasure Donkey from Florida to California and all points in-between. Clyde accrued few NASMA performance points because at that time there were little to no donkey classes provided by the association. Cindy was one of a handful of influential members who lobbied for their creation. All of Clyde's points have come by way of his son's and daughters.

In 2002 Clyde was sold to Genesis Farms and is now owned by Katherine G. Shauger NASMA YOUTH-14. Clyde's focus at Genesis Farms has been the production of some of today's most competitive and sought after donkeys.

ARCO Farm produced an unprecedented number of elite show mules and donkeys by Clyde out of a herd of fine quality mares which included bloodlines from the finest Buckskin, Thoroughbred and Quarter Horse breeding stock.

When NASMA reflects on its roots, when it looks back at the people and animals that formed this organization, we must feel blessed to have as one of its cornerstones T.J.C. Clyde. It would be as if we could have "Nelson" George Washington's beautiful gray stallion, or "Traveler" Gen. Robert E Lee's most famous horse here with us as living monuments to our country's cherished history.

Clyde provided this organization with mules that made many talented horsemen into mulemen. Animals so fine, talented and beautiful that he blew apart the traditional concept of what was once thought of as mule confirmation and way of going. He is and will always be the bar that everyone in this industry aims for and he is NASMA's own ND0003.
Just a few of the many remarkable mules and donkeys Clyde has produced over the years are presented in the slideshow. It would be very hard to find a mule and donkey show of any association where a son or daughter of Clyde's is not showing. Many of his offspring are young and just coming of age and he is still producing each year, NASMA can look forward to this pre-potent sire continuing to produce the kind of mules and donkeys that push our industry to the highest standards of quality and performance. There is a reason that Clyde has been our associations Leading Jack award winner for 2003, 2004, 2006, 2007, 2008, 2009, 2010, and 2011.