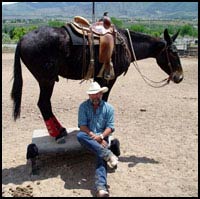 Tim Doud with Grover
Tim Doud uses the methods of the famous John Lyons and was the first person to graduate from the Certification Program using only Mules. Tim has studied John Lyons' training program for over 15 years and has been training using his methods for nearly the same. Tim offers the following training programs.

Mules are trained using a Full-Cheek Snaffle bit only. Groundwork and Bridle work are taught to each mule before the mule is mounted for the first time. This way, your mule knows the basic Bridle Cues - disengage hind quarters, moving the shoulder, stopping, etc. before the first ride. This makes it safer and easier for the mule to stay calm and focused.